When you're missing a tooth, the gaps in your smile can negatively affect how you look, speak, and chew.
A dental bridge placed by Dr. Shannon Patterson of Brookhaven Dental Center in Brookhaven, MS, can restore your smile's look and function.
Here's how our trusted dentist uses implant-supported and same-day restorations to fill gaps in his patients' smiles...
What Exactly Is a Dental Bridge?
There are two types of bridges: traditional bridges and implant-supported bridges. A traditional bridge is made up of two dental crowns with lifelike artificial teeth called pontics in between. The dental crowns are cemented to the natural teeth on either side of your gap. Meanwhile, an implant-supported bridge is connected to artificial tooth roots called dental implants. Because an implant-supported bridge is held in place by dental implants, there are no modifications needed to your healthy teeth. During an exam at our Brookhaven, MS, dentistry practice, Dr. Patterson will help you decide which type of dental restoration best meets your needs.
Here is a closer look at the two types of dental bridges: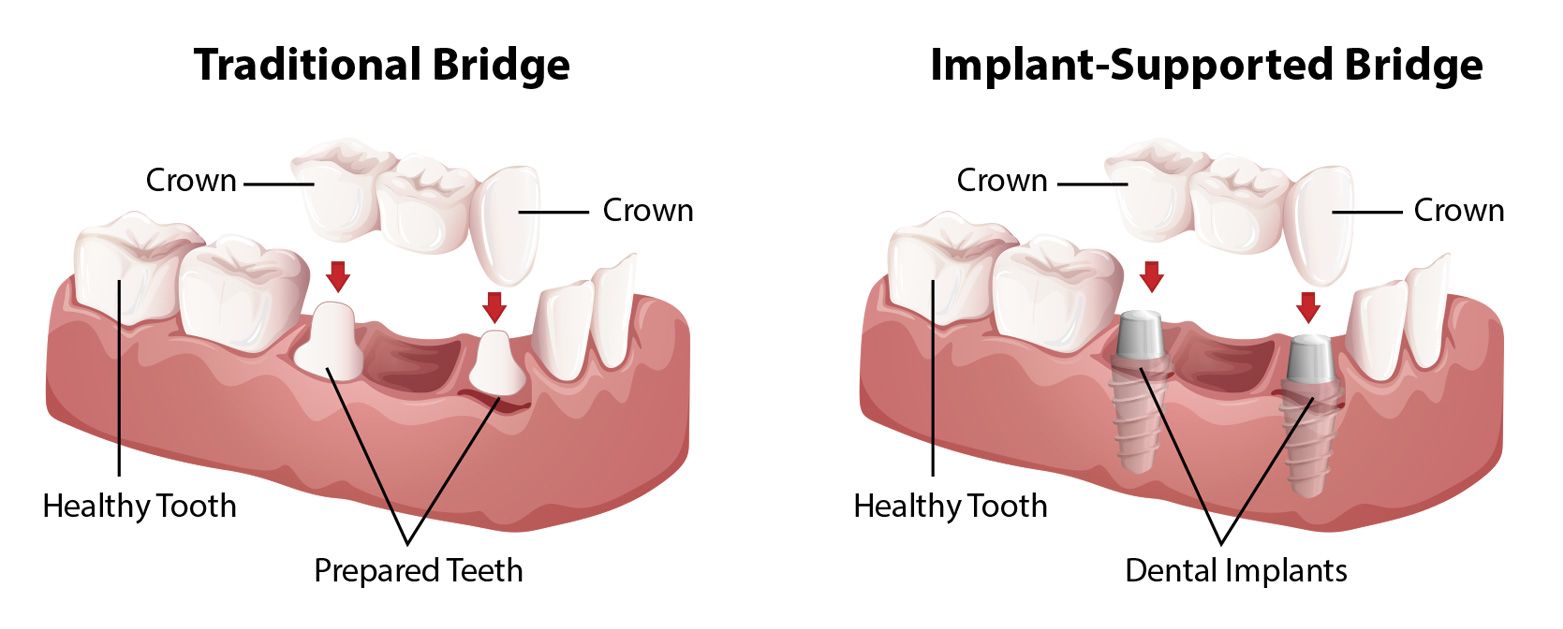 Trusted Providers of Dental Bridges
for over 20 Years
Brookhaven Dental Center
is a
patient-centered dental practice
serving Brookhaven, Lincoln County, and Auburn, MS. Dr. Patterson and the entire team strive to foster
long-lasting relationships
with all who are entrusted to our care. We understand that tooth loss can have a negative impact on your oral health and quality of life, so we make it our mission to provide tooth replacement options that
fit your needs, goals, and best interests
.
These 5-Star Google Reviews Have Us Smiling, Too!
"I highly recommend Brookhaven Dental Center."
We drive from Natchez to Brookhaven to see Dr. Patterson. He does wonderful on my boyfriend's teeth. Dr. Patterson and his staff educate you before each procedure so you know exactly what is about to happen. The facility is high tech and they take pride in cleanliness. I highly recommend Brookhaven Dental Center.
View On Google
When we moved from Annandale, VA (suburb of Washington, DC) I was expecting a reduction in quality of dental service, but southern hospitality would most likely result in a friendlier atmosphere. I was pleasantly surprised to find Brookhaven Dental Center provided both a friendly atmosphere and superior professional service than we had in a large city. We have been a customer for over 12 years and have no regrets choosing Brookhaven Dental Center for our dental needs.
View On Google
Explore Your Options
Traditional, Implant-Supported, and Prettau Zirconia
Dr. Patterson provides the following types of dental bridges to patients at Brookhaven Dental Center who are ready to address tooth loss:
Traditional
This dental restoration consists of two dental crowns with pontics in the middle. The crowns are bonded onto the natural teeth on either side of the gap with the pontics between them. While each adjacent tooth must be resized in order to create room for this type of bridge, it is still one of the more affordable and popular tooth replacement options offered by experienced dentists like Dr. Patterson.
Implant-Supported
Dentists connect implant-supported bridges to dental implants, which are threaded titanium posts surgically placed into your jawbone. Although this treatment requires surgery and spans several months, no modification is needed to your existing teeth. Additionally, bridges supported by implants can prevent jawbone recession, keeping your facial structure healthy and full. It is important to mention that if you are only missing one tooth, you may be a better candidate for an implant-supported crown.
Prettau® Zirconia
Dr. Patterson uses this superior implant-supported restoration to replace an entire arch of missing teeth. After the implants have healed, a high-quality zirconia bridge is permanently connected to them. Compared to conventional dentures, this treatment option provides unparalleled stability and incredibly natural-looking results.
Our dentist
recommends dental bridges to patients missing one tooth or several teeth in a row. You'll need to meet the following criteria to qualify:
Good Oral Health
Besides tooth loss, you should be in good oral health to be considered for a bridge. Any dental issues like tooth decay or gum disease will need to be addressed before the procedure can be scheduled. Our dentist can provide the treatment you need to restore health to your smile.
Adequate Bone Tissue
For implant-supported bridges, you need enough bone tissue to support the dental implants. If you have lost jawbone tissue due to missing teeth, a bone graft may be needed to boost bone growth and restore your candidacy for implant dentistry.
Treatment timelines can vary considerably depending on the type of bridge chosen.
Traditional vs. Implant-Supported
We can often create natural-looking, high-quality custom restorations in one or two office visits.