Restore Your Smile with a Dental Bridge
Gaps and spaces compromise the health and appearance of your smile. Bridges can be connected to natural teeth or dental implants. Once in place, artificial teeth – called pontics – fill in the gaps left behind to complete your smile. If you are missing one or more consecutive teeth, you may benefit from dental bridges at our Brookhaven, MS, dentistry.
Brookhaven Dental Center is a patient-centered practice serving Lincoln County and Auburn, MS. Dr. Shannon P. Patterson and the entire team strive to foster long-lasting relationships with all who are entrusted to our care. Tooth loss can have a negative impact on your oral health and quality of life: trust your care to a team that has your best interests at heart.
Types of Dental Bridges
There are several types of dental bridges available depending on the unique needs of the patient. These include:
Traditional: This restoration consists of two dental crowns with pontics in the middle. The crowns are bonded onto natural teeth on either side of the gap and the pontics fill the space between them. While the adjacent teeth must be slightly reduced in order to create room for the bridge, it is still one of the more affordable tooth replacement options and is consequently a popular treatment.
Implant-Supported: While traditional bridges are attached to natural teeth, implant-supported bridges are connected to dental implants – threaded titanium posts that are surgically placed into the jaw. Although treatment is a more involved process, implants can preserve existing tooth structure and provide greater stability than a traditional crown.
Prettau® Zirconia: This implant-supported restoration is used to replace an entire arch of missing teeth. After the implants have healed, a high-quality zirconia bridge is permanently connected to them. Compared to conventional dentures, this treatment option provides unparalleled stability.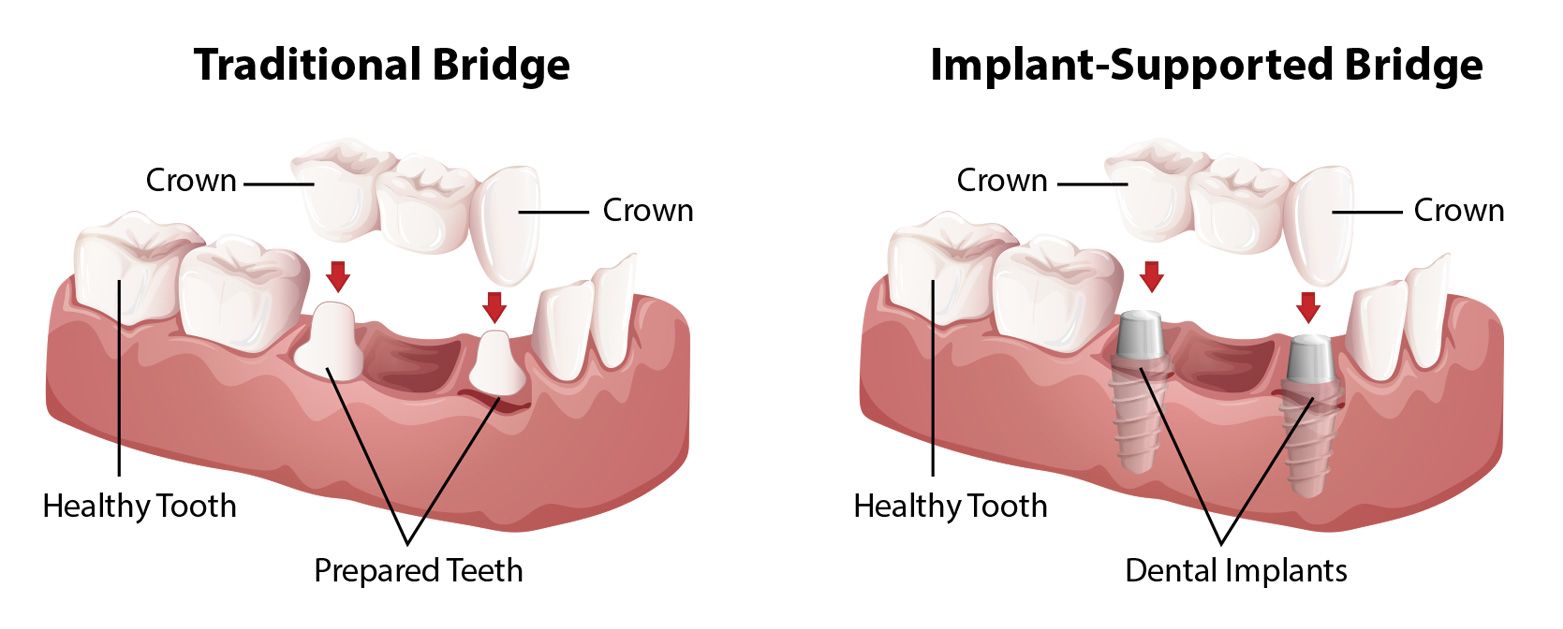 Am I a Candidate?
Dental bridges are recommended for those who are missing one or more consecutive teeth. To qualify for the traditional option, patients should be in good oral health. Any existing tooth decay or gum disease should be addressed prior to bridge placement.
Those considering an implant-supported bridge must also have adequate bone structure to support the dental implants. If you have lost jawbone tissue in the wake of missing teeth, preparatory procedures such as bone grafting can boost bone growth and potentially enhance your eligibility. During a consultation at our Brookhaven practice, Dr. Patterson can help you determine which treatment is right for you.
Tooth loss can have a negative impact on your oral health and quality of life.
Treatment Timeline
Treatment timelines can vary considerably and depend on the type of bridge chosen. For example, traditional bridges can be completed in just one or two office visits. In fact, our CEREC® technology allows Dr. Patterson to create a custom restoration during a single appointment while you wait.
In contrast, placing an implant-supported bridge can take several months. Once the implants have been surgically placed, they must fuse to the natural bone tissue during a process known as osseointegration. This is essential for the long-term stability of your implants. On average, the process takes about three to six months, after which two more appointments are necessary before a bridge can be attached.