Dental Crowns
Cracked, chipped, and weakened teeth compromise your oral health, and they can make you feel self-conscious about your appearance.

A dental crown fully encases your tooth to preserve its health, provide support, and protect it from further damage.
Brookhaven Dental Center in Brookhaven, MS, can provide custom dental crowns in a single visit to our office...
Top Three Benefits of Dental Crowns
Protection and Support
This solution provides support to your tooth after a procedure such as a root canal, improving your chewing function and ability to bite into foods.
Preservation of the Tooth
Even if the tooth is seriously damaged, a cap can be placed over the visible portion of the tooth. This can preserve the root structure and the remaining healthy parts of the tooth.
Improves Appearance

Fractured, chipped, discolored, and worn teeth affect the appearance of your smile. Dental crowns can be placed to mask dental flaws and give you a more balanced, attractive smile.
Undergo Treatment by a Skilled Dentist
Dr. Shannon P. Patterson earned his dental degree from the University of Mississippi Medical Center School of Dentistry. He went on to earn a fellowship from the Academy of General Dentistry. Today, his Brookhaven practice provides dental care to patients from Lincoln County, Auburn, and surrounding areas.
To undergo dental crown treatment with a skilled dentist, contact us online or call us at 601-833-0746.
"Excellent experience. Dr. Patterson and staff are always very pleasant, caring and professional. The office ladies are helpful and don't mind helping with insurance questions and the financial part of treatment."
Winnie R. - 5-Star Facebook Review - June 3, 2016
What Are Dental Crowns?

Dental crowns are tooth-shaped caps that are placed over a damaged tooth, fully encasing it. Crown placement is a restorative dentistry procedure, though it does have cosmetic benefits as well. For example, they can improve the appearance of misshapen or severely discolored teeth.
Crowns can be made of gold, metal alloys, porcelain fused to metal, or porcelain. At our office in Brookhaven, Dr. Patterson uses high-quality porcelain material because it is strong, durable, and looks natural.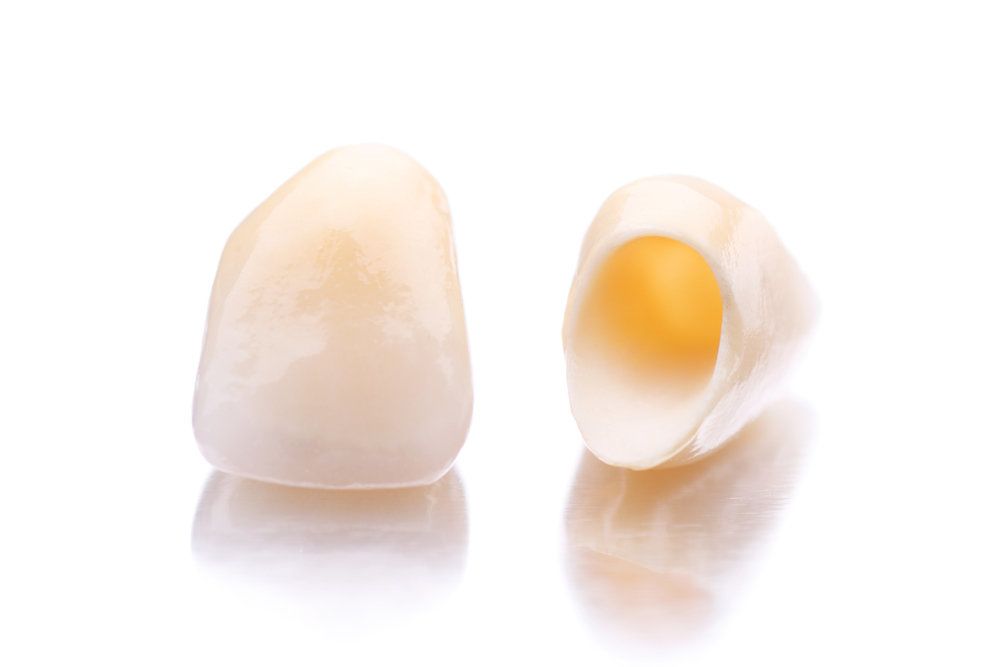 Conditions That Can Be Treated with This Solution
Dental Infection
After a root canal, a dental crown can protect the remaining healthy portions of a tooth.
Large Cavities

If a dental filling, inlay, or onlay can't sufficiently treat a large cavity, a dental crown is probably the best option.
Worn Teeth

Cracked, chipped, or eroded teeth inhibit dental function. A porcelain crown improves your chewing ability and appearance.
This Option Can Also Replace a Single Missing Tooth
A dental crown can be attached to a dental implant to replace a single missing tooth. Dental implants resemble screws, and they are placed in the jawbone to replace the tooth root. Depending on how many teeth are missing, dental implants can support dentures, bridges, or crowns. While dentures and bridges are used when multiple teeth are missing, a cap and a single implant can be used to replace one missing tooth.
In the past, receiving a dental crown required multiple visits to the dentist. Molds would be taken at the first appointment, a temporary crown would be attached, and then it would take about two weeks for a lab to produce the custom-made restoration, which would be placed during a second appointment.
Now, at Brookhaven Dental Center in Brookhaven, MS, patients can receive a porcelain crown in only one appointment. Thanks to our state-of-the-art CEREC® technology, Dr. Patterson can create a digital model of your bite and fabricate a custom-made cap in about an hour. Patients no longer have to worry about temporary crowns or scheduling multiple appointments.
I have been a patient of Dr. Patterson for several years. The service was excellent from reception to the extensive dental work I had done. Dr. Patterson is an excellent physician. He and all his staff are always kind, caring and go above and beyond for their patients.

Nicole R. - 5-Star Facebook Review - May 4, 2017
The Dental Crown Procedure

The dental crown procedure performed at our dentistry office in Brookhaven, MS, uses CEREC technology to complete treatment in just one appointment and without the need for a temporary crown.
How to Preserve
Your Dental Crown
Dental crowns are strong, but they are not indestructible. Porcelain crowns tend to last for about eight years. To ensure your new crown lasts as long as possible, you can take a few simple dental care measures:
Avoid Difficult Foods
Foods that are especially hard or sticky can damage or dislodge the dental crown. Try to avoid using your crown to bite or chew these foods.
Practice Good Dental Hygiene
Your dental crown can be cared for much like your natural teeth. Brush your teeth twice a day, floss once a day, and visit the dentist for a dental checkup once every six months. To avoid scratching the porcelain, use non-abrasive toothpaste, and to avoid dislodging the dental crown, floss from front to back rather than up and down.
Go Easy on Your Teeth
If you grind your teeth, talk to your dentist about wearing a dental nightguard to protect your new crown from damage. Try to avoid opening packages with your teeth, chewing on pens, or biting your nails.
Most dental crown procedures fall under the category of restorative dentistry (instead of cosmetic dentistry), so most dental insurance plans cover at least part of the cost. We work with our patients to make all of our procedures as affordable as possible. Our dentistry practice serving greater Lincoln County and Auburn provides payment plans and accepts cash, check, and all major credit cards.