Root Canal Therapy Eliminates Infection and Preserves Health
Root canal therapy is a common procedure used to treat infected teeth. Despite its reputation, the treatment is rarely uncomfortable: its purpose is to eliminate the pain caused by a tooth infection, not cause it.
At our Brookhaven, MS, dental practice – also serving Auburn and Lincoln County – Dr. Shannon P. Patterson uses the latest, most advanced root canal techniques to eliminate harmful bacteria and promote optimal oral health.
When Is Root Canal Therapy Necessary?
Whenever bacteria breach the pulp chamber – the innermost layer of a tooth – root canal therapy is necessary. This infection can be caused by deep dental decay, trauma, large fractures, or other issues. As the infection begins to accumulate, it can even spread to neighboring teeth.
Some of the most common signs and symptoms include:
Toothache
Sudden bad taste or bad breath
Tooth discoloration
Heightened sensitivity to heat and cold
Pain when chewing
Fistulas or pimples on the gum tissue
Unfortunately, the early stages of a tooth infection often have no symptoms. This makes it all the more important to schedule regular check-ups with your dentist so that they can identify signs of problems as early as possible.
The procedure is virtually painless because infection is eliminated at its source
Benefits of Root Canal Therapy
Root canal therapy has developed a negative reputation over the years. But contrary to popular belief, the procedure is virtually painless because infection is eliminated at its source. Furthermore, the outcome is visually appealing due to the high-quality dental materials used at our Brookhaven practice. Finally, root canal therapy is also more cost-efficient in the long-term compared to an extraction and dental implant.
Who Is a Candidate?
To qualify for root canal therapy, there must be plenty of healthy tooth structure remaining. Root canal therapy is reserved for permanent adult teeth, but is not usually recommended for wisdom teeth.
What to Expect during Treatment
To confirm your eligibility for root canal therapy, Dr. Patterson takes x-rays of the affected tooth. Next, local anesthesia is administered for patient comfort. To access the internal tooth structure, a tiny hole is created in the crown. Next, small endodontic instruments are used to remove the nerves, blood vessels, and infected tissues. The surfaces are then thoroughly cleaned and disinfected.
Once the inside of the tooth is clean, Dr. Patterson fills the root canals and pulp chamber with gutta percha – a rubbery, flexible dental filling material. The tooth is then sealed and restored with a filling or dental crown to prevent reinfection. In some cases, a post is added inside the tooth for extra stability and reinforcement.
Root canal therapy can usually be completed in just one to two appointments. In some instances, a second visit may be necessary depending on the extent of infection.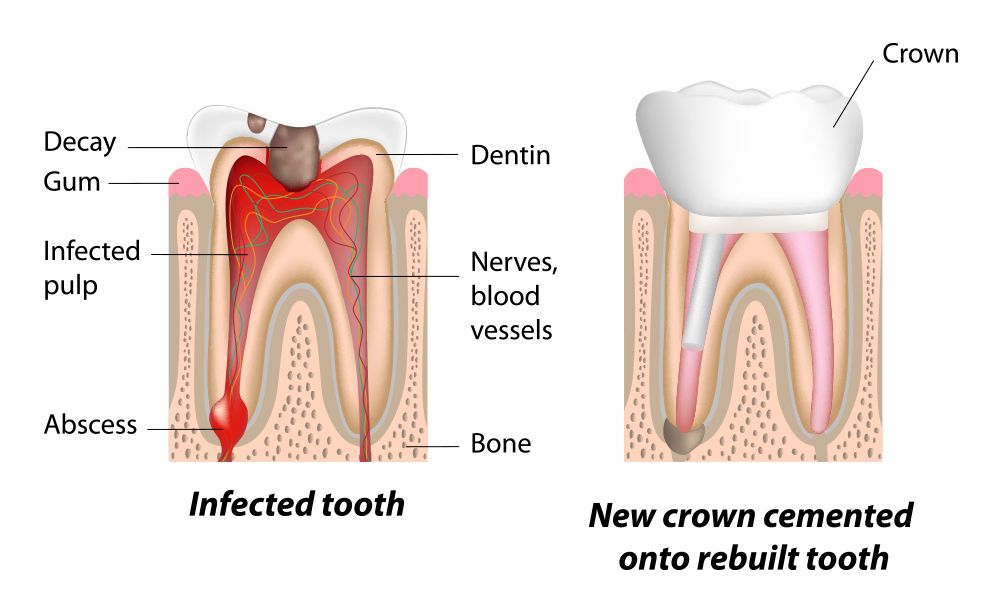 Recovery and Aftercare
Due to the nature of root canal therapy, slight discomfort or sensitivity can be expected for the first few days. These side effects can be managed with prescription medications or over-the-counter pain relievers.
Most patients can return to normal activities immediately. However, if sedation is used, patients should rest at home until the effects wear off.
How to Prevent Infected Teeth
Though it is not always possible to prevent dental infection, there are steps you can take to reduce the risk. The best thing you can do is visit your dentist regularly for exams and cleanings. This allows your oral healthcare team to detect and treat problems early on before they progress.