Severe pain, swollen gums, and hot and cold sensitivity can be symptoms of an infected tooth, meaning you might need a root canal.

Root canal treatment is performed to remove a harmful infection. Worried that the procedure might hurt?
Dr. Shannon Patterson in Brookhaven, MS, performs virtually painless root canals using modern dental technology and sedation...
Root Canal Treatment:
Before and After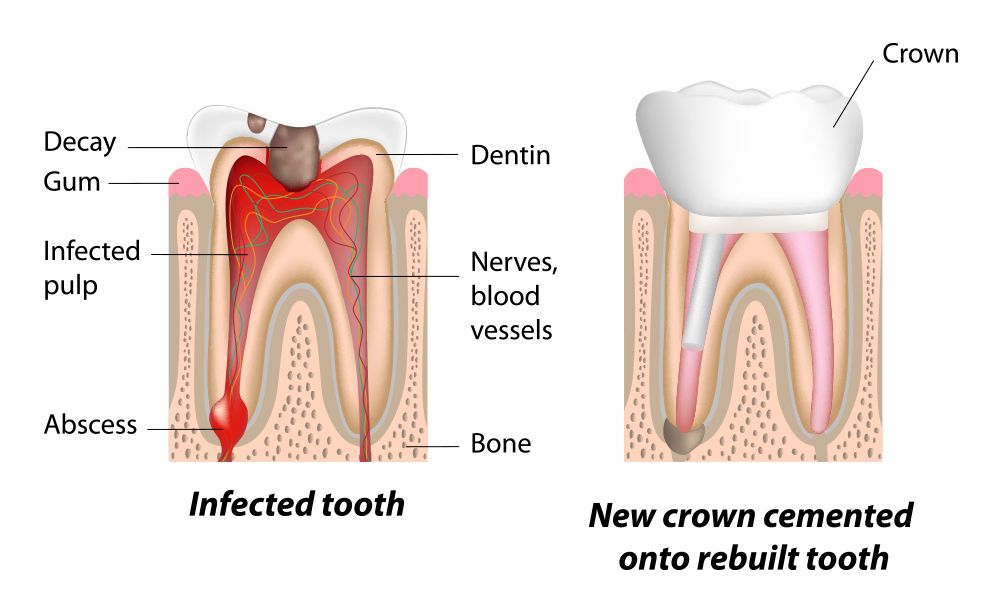 Don't I Need a Special Dentist for a Root Canal?
No. While many dentists refer patients needing a root canal to a specialist called an endodontist, Dr. Patterson is an experienced and trusted general and cosmetic dentist who is completely qualified to perform this procedure. You can avoid the hassle of making a separate appointment with an endodontist when Dr. Patterson can take care of your dental issues safely, comfortably, and effectively at his Brookhaven, MS, office.
Do Our Patients Love Dr. Patterson?
These 5-Star Reviews Speak for Themselves...
We drive from Natchez to Brookhaven to see Dr. Patterson. He does wonderful on my boyfriend's teeth. Dr. Patterson and his staff educate you before each procedure so you know exactly what is about to happen. The facility is high tech and they take pride in cleanliness. I highly recommend Brookhaven Dental Center.
View On Google
I've been going to Brookhaven Dental Center for several years and am very pleased with the care I receive there. The staff is always polite and cheerful. I have never had to wait past my scheduled appointment time to be seen. They are thorough and caring and I will continue to use this dental center for all my dental needs.
View On Google
Signs You May Need a Root Canal
The early stages of an infection often have no symptoms, meaning the signs don't show up until interior dental tissue has been affected. This makes it all the more important to schedule regular dental care check-ups with Dr. Patterson at his Brookhaven, MS, office. He can identify oral health problems as early as possible and provide timely treatment. Symptoms include:
Toothache
Sudden bad taste/bad breath
Red, swollen, tender, or bleeding gums
Tooth discoloration
Heightened sensitivity to heat and cold
Pain when chewing
Lesions on the gum tissue
Benefits of Root Canal Treatment
Performed by Dr. Patterson
Virtually Pain-Free
Dr. Patterson administers local anesthesia to make you extremely comfortable during the procedure.
Natural-Looking Results
Dr. Patterson only uses high-quality fillings and dental restorations at his Brookhaven, MS, practice, so your repaired tooth will look and feel natural.
Cost-Effective
Most insurance plans will cover at least a portion of the cost of a root canal. Any out-of-pocket expenses you have to pay will almost certainly be less than the cost of receiving an implant.
You may experience slight discomfort or sensitivity over the first few days. These mild side effects can be managed with prescription medications or over-the-counter pain relievers.
Most patients can return to normal activities immediately. However, if sedation is used, patients should rest at home until the effects wear off.
How Can I Prevent Infected Teeth?
Though it is not always possible to prevent dental infections, there are steps you can take to reduce the risk. In addition to daily brushing and flossing, the best thing you can do is visit Dr. Patterson in Brookhaven, MS, regularly for exams and cleanings. This allows your dentist to detect and treat oral health problems early before they progress. We welcome patients from Auburn and throughout Lincoln County.